J INTS Bio Announces New Fourth-Generation EGFR TKI Poster
Page info
Name
admin
Views
21
Datetime

23-09-19 16:32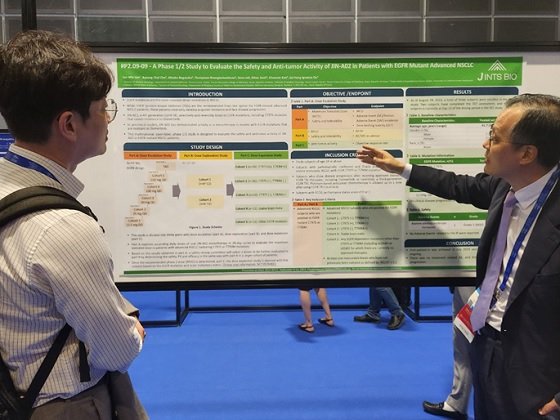 Here's the latest from J INTS Bio Inc., an investment portfolio company of SYP Inc. 
J Ints Bio announced on Sep.15th that it recently presented a poster for a phase 1/2 clinical study of the new oral administration fourth-generation EGFR TKI 'JIN-A02' at an official session of the International Conference on Lung Cancer Society (IASLC 2023 WCLC) in Singapore. 
'JIN-A02' is a fourth-generation EGFR TKI that selectively and reversibly binds to EGFR mutations, including C797S mutations that cause resistance to osimertinib. Preclinical studies have demonstrated its activity as a monotherapy in osimertinib-resistant EGFR mutation models. 
In this phase 1/2 of the global clinical trial, we plan to evaluate the safety, tolerability, pharmacokinetic and anti-tumor activity of "JIN-A02" in patients with EGFR mutation-positive and advanced non-small cell lung cancer. 
The study was designed in three parts: capacity increase (Part A), capacity exploration (Part B), and capacity expansion (Part C). Part A evaluates the maximum allowable dose in patients with advanced NSCLC with C797S or T790M mutations. To this end, we explore ways to increase the daily dose of 'JIN-A02' monotherapy every 28 days. Based on the results obtained in Part A, the Safety Review Board will determine safety, pharmacokinetic (PK), and efficacy in the same manner as in Part A in a larger patient population, choosing two additional doses to be evaluated in Part B. Once the recommended two-phase dose (RP2D) is determined, a dose expansion study is planned in Part C to five cohorts based on EGFR mutations and brain metastasis states. 
According to a company official, "JIN-A02" completed its first patient registration in July. Currently, a total of three subjects are registered in the Part A study. Part 1 dose increase is in progress, and so far, there have been no treatment-related side effects (AE) and no clinical diseases. 
a related article : Money Today (https://news.mt.co.kr/mtview.php?no=2023091318163455355)